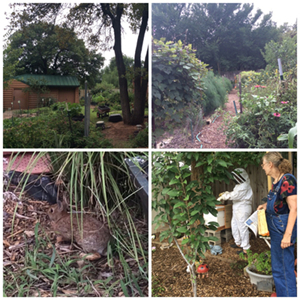 Many schools, scout groups and churches have enjoyed being in nature while touring Turtle Barn Organic Farm. The farm encourages groups to come for the day and cook at the campfire. Scouts have earned up to seven Nature badges for their participation in the activities created for them at the farm. Youth sign a pledge to be a Green Friend who helps the earth by recycling, re-using, restoring, respecting and caring for nature. Tours are oriented to helping youth "see, discover and uncover" what is right in front of their eyes. Instead of pointing out green beans, strawberries and peas, farm members provide a few hints and encourage youth to be a detective and discover them on their own. Their excitement at finding these vegetables gets even the most bored junior high kids involved. Nature does that for all of us. It connects and inspires all!
As more help was needed on the farm, a paid work/learn program was added for students from local colleges. College students are eager to learn about growing. Most plan to grow their own food, and are thrilled at the opportunity to be paid for hands on learning. For example, just last month there was an "aha" moment, when several of the bright science and engineering college students realized the flower from the strawberries, apple tree, blackberries and raspberries actually grows into the fruit. This came about after the farm added bee hives.
Farm members were noticing and commenting on how much more fruiting was happening because of the bee's pollination. One of the farmers said, "If every flower becomes a fruit, our apple tree will have its limbs hanging way low."

Because the students had not previously realized that the fruit grew out of the flower, they were in awe after discovering this. They had seen the strawberry blooms, but did not know the bloom became the strawberry until they noticed the little green strawberries forming where the flower had been. What seems natural and common sense is not so until you discover and make it your own.Farming is a wonderful time to share Amma's observations about nature with the students and humanity's role in preserving it.